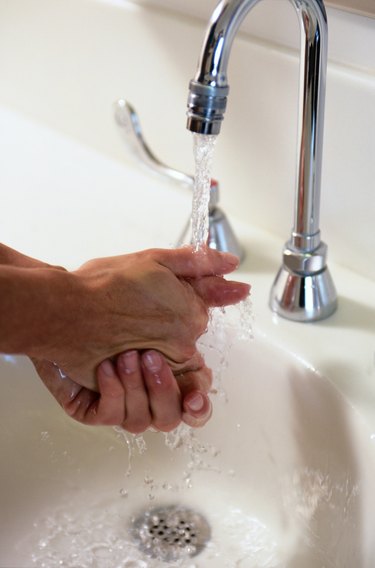 A sewer odor that emits from the bathroom sink drain can cause you to panic. The strong smell can quickly fill your bathroom with an unpleasant odor. While it may smell dangerous, the sewer smell usually consists of problem that you can fix yourself. Determining the cause of the sewer smell can help you prevent it from returning in the future. If you cannot remove the sewer smell yourself, consult a plumber to ensure that you do not have a serious plumbing issue.
Sink Trap
When you do not use the bathroom sink often, the sink trap can become dry. The sink trap is usually shaped like a U, S or J; you can find it below the sink. Water sitting in the sink trap creates a seal between the sewer line and the sewer gas ventilation. If the sink trap dries, the sewer smell fills the room. Run water down the sink drain at least once a month to prevent the trap from drying. Pouring 5 teaspoons of mineral or vegetable oil down the sink drain can help prevent the water from evaporating as quickly.
Sink Overflow
The overflow on the bathroom sink can harbor the sewer odor. Look for a small hole located on the top of the sink that connects to the bottom of the sink. This hole can contain a buildup of debris over time. Remove the slime buildup by inserting a small bottle brush into the hole to remove as much of the debris as possible. If your water drains to a city sewer system, pour an equal solution of chlorine bleach and water into the hole with a turkey baster or syringe. Never pour chlorine bleach down the overflow if you have a septic tank, because it can kill the bacteria needed to remove the waste.
Bacteria
Bacteria can build in the bathroom sink drain and cause a foul sewer odor. The bacteria continue to breed in the sink drain, and a thick film builds inside the drainpipe. If you notice the odor when you run water down the sink drain, bacteria is usually the culprit. Remove as much of the buildup as possible by removing the sink drain. Insert a bottle brush into the pipe and remove as much of the residue as possible. Pour chlorine bleach down the sink drain if the water drains to a city sewer system. The bleach will kill the breeding bacteria.
Plumbing Problem
If the sewer odor remains, you may have a dangerous plumbing problem that needs to be fixed. A pipe leak, seal or vent may need to be repaired. If you cannot remove the odor yourself, contact a plumbing professional to inspect the bathroom sink drain and surrounding plumbing fixtures. If the sewer odor smells like natural gas, contact your local gas utility company -- you may have a gas leak in the home.