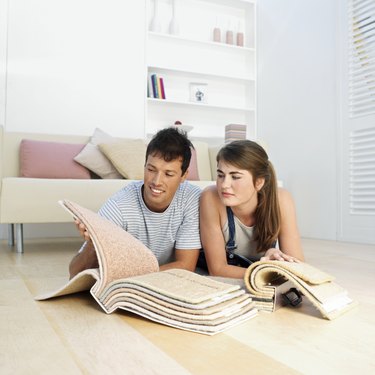 Fabric samples from upholstery projects can easily be repurposed into a variety of household goods and useful DIY projects. Fabric samples come in assorted shades, different kinds of material and are typically unused except for the brief period when someone has looked over them and gauged the color against another piece of furniture or against a wall color they are trying to complement. Make use of such samples and get creative with making some fun items, even gifts, for home, work and school.
Quilted Items
Use the upholstery fabric samples for a quilt or quilted items, such as a quilted table runner. You can cut small squares and create quilted napkins. Given the high quality of upholstery materials, these new items will be high quality and likely very stylish. All you need are sewing materials, a sewing machine, some quilt batting and fabric for the back of each quilt.
Scrapbooking Pages
Thinner pieces of upholstery material can be used in scrapbooking projects. You can use stencils to draw out shapes of images you want and then cut them with sharp, high quality fabric scissors. Simply glue the images to your paper for a textured, sophisticated addition to your scrapbooking projects.
Check Book Cover and Coin Purse
Use upholstery material to create a check book cover and a matching coin purse. You will need some kind of closure for both (a zipper and mini zipper, buttons or clasps) that ensure the safe keeping of any money or loose change or, of course, your checks. Your check will find a stylish new home in your upholstery check book cover and paying bills might just be a bit more fun.
Art Work
Just like homeowners often frame wallpaper as DIY art work, fabric samples can also be framed. You can also use an assortment of fabric samples together, in a DIY collage, and bind them to a piece of board. Both of these suggestions provide unique, abstract art work for your home at a limited cost. (The only costs are the suggested framing or the cost of mounting board if you opt for a collage.)