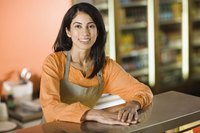 Grocery store managers wear many hats. To manage a grocery store you must oversee your staff, order merchandise, ensure you comply with local codes and a host of other tasks it takes to keep the business profitable. According to the U.S. Bureau of Labor Statistics, many grocery managers work much more than a traditional 40-hour schedule in order to complete every required task and cover for absent employees. The compensation for these workers varies with a few specific factors.
According to a BLS survey, the average grocery store manager makes $16.90 per hour. Careerbuilder, one of the primary job posting websites, estimates the average grocery store manager wage at $55,117 and assistant grocery store manager at $54,062. Much of the apparent difference in the BLS and the Careerbuilder numbers comes from substantial overtime and bonuses a manager receives in running a successful store. Many managers working in large, national grocery chains will also receive an array of benefits ranging from health insurance to retirement.
Education and Experience
Education and experience can increase a grocery store manager's salary. Many grocery store managers become employed in a management training program due to the complex and diverse nature of the required skills for the position. Grocery corporations seek these employees primarily from those with at least a bachelor's degree. Preferred fields for manager recruit candidates include food service management and business management or a specialized degree in supermarket management or design. Grocery experience is often required in order to become a grocery manager due to its complexity.
Work Environment
Work environment can also directly affect the salary of a grocery store manager. Managers who are paid hourly can, and often do, work overtime with its associated higher wage. Union membership can change the work environment in a grocery store and directly affect pay. While a stated goal of a grocery store union is to promote a five-day, 40-hour work week, it may be able to guarantee a much higher starting wage for employees and managers.
Other Considerations
The BLS estimates a generally flat outlook for hiring in the grocery industry. With thin profit margins and increased competition, many small grocery chains are purchased by larger corporations. Opportunities for advancement may result from these corporate mergers. In addition, due to the challenging nature of the position, managers who remain at their positions for longer time will develop a higher pay scale due to yearly raises and may move beyond the store management level to a corporate position, which may pay even more.