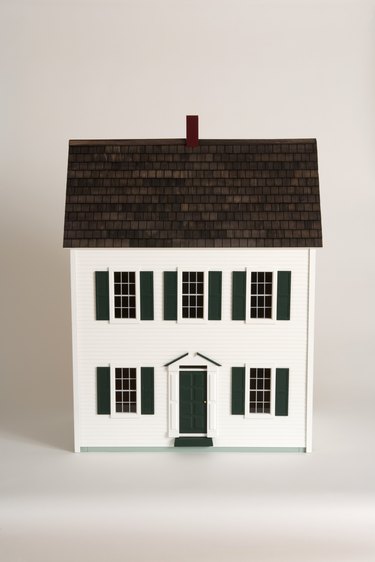 A whole community of crafters create miniature doll houses, delighting in building the houses, furniture and accessories from scratch and re-purposing materials as part of a miniature doll house. Making miniature elevators can be done both ways - re-purposing or building from scratch.
Wood
Make a wooden section in the corner of the dollhouse and build a wooden box as an elevator. The elevator can be open on one side, to easily accept a doll at any of the floors of the dollhouse. It may have a French door, with a solid bottom and two shutters that open on the top, or it could have simply a solid bottom on the front that is open at the top. Use a thin piece of plywood or a piece of paneling to make the miniature elevator.
Found Items
Take the elevator another direction using found materials. A matchbox or baby's shoebox can make a miniature elevator. For a tin elevator, try a mint box or nail box. Gift boxes come in a variety of sizes, and can be altered to create doors and windows. Try a non-traditional shape for an elevator, such as a soup can or a cloth elevator.
Pulley System
To use the elevator, use simple pulleys and rope to allow the elevator to move between floors. Run the top rope through the roof and knot it to prevent the rope from falling through into the elevator shaft. When designing the dollhouse, be sure to leave room at the top of the shaft for the pulley mechanism. An even simpler system uses one string or rope to pull the elevator up, and gravity lets it down.
Electric Machinery
For a more complex and advanced elevator, use a small electric motor hidden behind or in a small room in the doll house to control the elevator. Remember to design a button or switch somewhere in or behind the house to turn the elevator on and off. For those with electric expertise, consider synchronizing the lights in the home to the elevator so that the lights on a floor turn on when the elevator stops there.