Things You'll Need
Seam ripper

Straight pins

Sewing machine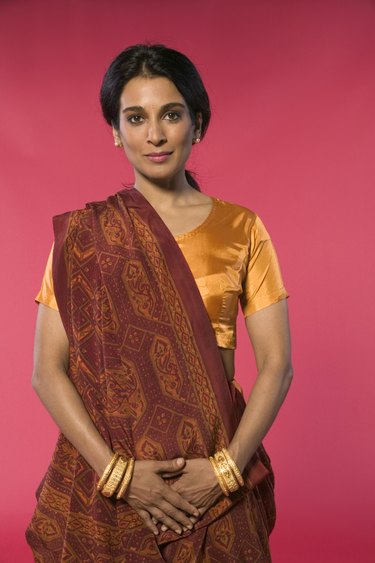 Saree blouses are meant to be worn with a saree, also known as a sari, a long wrap-around garment that is worn in the South Asian Subcontinent. A saree blouse is typically short, worn above the midriff and has short sleeves and usually a low scoop neck at the back. Store-bought sarees will often come with a pre-made saree blouse. However, it is rare that a store-bought saree blouse will fit perfectly. Thankfully, tailoring a saree blouse can be accomplished relatively simply.
Step 1
Put on the saree blouse to determine where the blouse needs to be tailored and how much tailoring will be necessary for a proper fit. A saree blouse usually has three darts on the bust and chest area, which can be taken in easily for quick adjustment. The other areas to check are the side seams and the shoulders.
Step 2
Take the blouse off and turn it wrong-side out. Use pins to make adjustments to the fit of the blouse either by taking more material into the darts, or increasing or extending the side and shoulder seam allowances to make the blouse smaller or larger, respectively.
Step 3
Check the adjustments you made by gently putting on the blouse; be careful not to knock any pins out while you try the blouse on. When you're happy with the tailoring, take off the blouse and leave it wrong-side out.
Step 4
Rip any seams that need opening to adjust them, then sew along the new seam allowances with a sewing machine. If you only want to make the bodice longer or shorter, then either unpick the hem to let some fabric out, or fold the hem over to shorten it then re-sew; the same applies to the length of the sleeves.
Tip
Try the blouse on first with the saree wrapped around your body and draped over the shoulder as it should be. Often the saree wrap covers much of the blouse, which may lessen the need for tailoring.