Things You'll Need
1/4 cup white vinegar per 5 pounds of fish

Large pan or mixing bowl

1 cup cold water

Large pan or dish (large enough to hold all of the fish you are cooking)

1/2 gallon of milk per 5 pounds of fish (vitamin D or whole)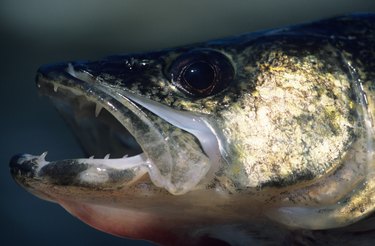 Walleye is a great freshwater game fish for cooking. Walleye is the largest freshwater member of the perch family; and in the opinion of Eileen Clarke, author of "The Freshwater Fish Cookbook," it is one of the most popular game fish in North America. The meat of the walleye is white, firm and flaky. Walleye is known for having a mild flavor, but some people still may consider it to be too "fishy."
Step 1
Pour 1/4 cup of white vinegar into a large mixing bowl or pan.
Step 2
Dilute the white vinegar with 1 cup of cold water and mix well.
Step 3
Wash the walleye fillets in the diluted white vinegar mix and then place them into the large pan or dish.
Step 4
Pour 1/2 gallon of milk directly over the fillets.
Step 5
Place the pan or dish with all of the walleye fillets in it on ice or in the refrigerator and allow the fillets to soak for 30 minutes.
Step 6
Turn the fillets over in the milk and allow them to soak for another 30 minutes.
Step 7
Remove the walleye fillets from the milk. They are now ready to be cooked. You do not need to rinse the fillets beforehand.
Tip
Keeping fish on ice is the best way to prevent it from spoiling or getting a fishy taste. If you are catching the fish, either ice live fish after catching them or clean the fish immediately and then put the fish on ice. The longer the walleye fillets remain soaking in milk, the less "fishy" they will taste. Try soaking the fillets for longer time periods if, after cooking them, you still detect that "fishy" taste.
Warning
Keep all fish refrigerated or frozen until you are ready to cook to prevent food-borne illnesses. Fish begins to deteriorate and even cook at very low temperatures, so keep fish on ice or frozen until cooking for the best flavor.