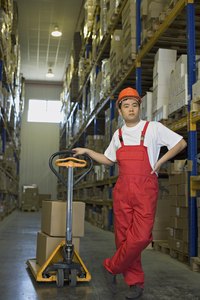 Overalls with a tutu around the hips are adorable on a baby or toddler girl. They are warm and sturdy, yet very feminine. They can also be just to thing for an older girl who wants to be fancy all the time. A red or white tulle tutu looks great on denim overalls, while a pink or lavender tutu makes a flirty addition to white overalls.
Things You'll Need
Measuring tape
Tailor's chalk
Tulle
Measure around the hips of the overalls. Mark the line made by the tape measure with tailor's chalk.
Cut six 12-inch-wide strips of tulle four times as long as the hip measurement.
Stack two strips of tulle and sew down the middle of the strip parallel to the long edges. Use 1/4-inch stitches.
Pull the thread to gather the tulle to match the hip measurement.
Fold the gathered strip in half along the gathering line and sew the folded edge to the overalls along the line you marked earlier. Start and end on the right-side seam.
Gather two more strips and sew them on 1/2-inch below the first strip. This strip should begin and end on the left side seam. This keeps the gaps in the tutu from being noticeable.
Gather the final two strips of tulle and sew them 1/2-inch above the first strip. This strip should start and end at the center back.