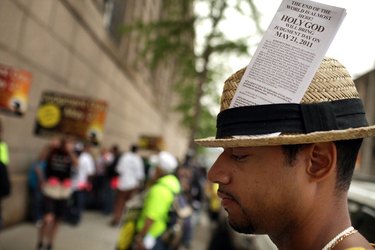 Share your faith with Christian tracts made from your very own templates. Christian tracts come in many shapes and sizes, so there is no standard template that has to be followed. Make your own templates by using your imagination and some layout tools. A ruler along with some paper can be used to make the templates. A template gives its designer a guide to follow for the placement of words and artwork in the tracts, and can be used repeatedly.
Step 1
Decide what format you will be using for your Christian tract. There are some standard formats that are commonly used. One such format is the brochure type tract. Brochure formats consist of one sheet of paper that is folded into three or four sections to create different pages. Another type is the booklet. Booklets are usually rectangular sheets of paper that are folded in half to create pages. They are often saddle stitched, or stapled, on the folds to fasten the pages together.
Step 2
Make a Christian brochure tract template by using a sheet of 8.5" x 14" legal paper. Divide the paper into four equal sections. Do this by first folding the paper in half. Fold in half again to create four sections. Unfold the paper, with the four sections you created, and you now have a brochure template. Measure from the edge of the page on all sides to create a border. Use the border to determine where to place images and text, so that everything is uniform. A border will also prevent text or art from getting to close to the folds.
Step 3
Make a Christian booklet tract by using a 8.5" x 11" sheet of paper. Turn the paper on its side, in landscape orientation, so that its height is 8.5" and it's width is 11". Fold the paper in half, horizontally so that the height becomes 4.25". Fold in half again so that the width becomes 5.5". Fold the paper back out to see that you now have 4 equal sections. Measure from the sides and draw a border that will determine the placement of text, photos, and art.
Step 4
Lay out your art, photos, and text in the appropriate places on your template(s), using the borders to keep everything in the right area. When you are satisfied with the layout, use a glue stick to paste things down where you want them. Take your template to the local copy shop, and print out copies.