Thickening already made gravy, or thickening a gravy you're currently making from scratch (right now while the guests wait!), is so much easier than you might think. You only need three ingredients and with a few simple steps, you'll have rich and flavorful gravy with no lumps in sight. Start with the juices from a roasted turkey, chicken, pork or beef roast or simply use butter with chicken stock. The process is the same either way--and it works perfectly every time.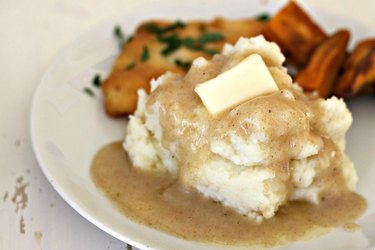 How to Thicken Already Made Gravy
Trying to thicken gravy that you've already started? Get out a separate pan and start the process below: melt butter, add flour and cook for 2 minutes. Use your gravy as the liquid for Step 3. Whisk and bring to a boil. Your gravy should be thickened.
Things You'll Need
1/4 cup butter (or cooking fat from any roasted protein)

1/4 cup flour

1 1/2 cups broth (or cooking drippings)

Salt and pepper to taste
Tip
This recipe makes enough gravy for 4 to 6 people. If you're hosting a large group, double the recipe and be sure to add a little extra cooking time to each step.
How to Thicken Gravy You're Making from Scratch
Use equal amounts fat and flour. If you're starting with the drippings from a roasted turkey, chicken pork or beef roast, use a fat separator as a first step. Then follow the rest of these directions.
Step 1: Melt the Butter
In a saute pan, melt your butter.
Step 2: Add Flour
Whisk an equal amount of flour into the pan with your butter.
Stir often on medium heat until the flour has cooked, about 2 minutes.
Step 3: Pour in Liquid
As you continue to whisk, slowly pour your broth (or roasting juices) into the pan.
Step 4: Bring to a Boil
Allow the gravy to thicken by bringing your pan to a boil. Cook for about 2 minutes for a small batch like this one (double this time if you double the recipe) until your gravy begins to reduce. Add a little salt and pepper as needed, tasting as you go.