A kimono obi is the belt that holds a kimono closed. An obi is considered to be a fine detail to an exquisite piece of art. Traditionally, obis are approximately 12 inches wide and four yards long so they can wrap several times around the torso and be tied in a pillow-like closure at the back. A heavy interfacing is used to make the obi extra stiff. The fabric should be a top quality stiff weave, so upholstery fabric is recommended to achieve an authentic look.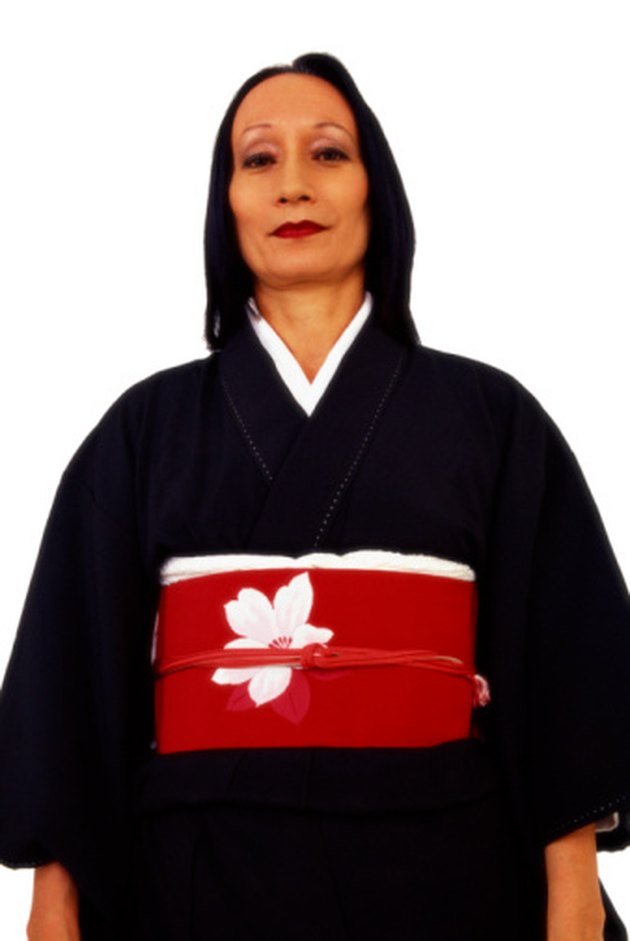 Things You'll Need
2 yards upholstery fabric

2 yards complimentary lining fabric

2 yards heavy interfacing (optional)

Yardstick or cloth measuring tape

Scissors

Straight sewing pins

Sewing machine

Thread

Iron and ironing board
Step 1
Cut four strips of upholstery fabric 13 inches wide and 37 inches long. Note that you should make sure any pattern designs on the fabric should match at the short ends of each of your strips. If the pattern design of the fabric is large, you may need more than 4 yards of upholstery fabric.
Step 2
Cut four strips of lining 12 inches wide and 36 inches long. If you are using interfacing, cut four strips of the interfacing 11.5 inches wide and 35.5 inches long.
Step 3
Adhere the interfacing to the lining according to the instructions on the package. Make sure there is 1/4 inch of lining extending beyond the interfacing on all four sides of your lining. If you are not using interfacing, skip this step.
Step 4
Fold under the raw edges of the long sides of the lining 1/4 inch and press with a hot iron. If using interfacing, note that the lining will fold over the fixed interfacing when you fold and press.
Step 5
Pin two strips of upholstery fabric together at the short ends, right sides facing. Machine stitch 1/2 inch from the raw edges. Continue this process until all the strips are sewn together and you have one long piece of upholstery fabric measuring four yards in length. Press the seams open with a hot iron.
Step 6
Repeat Step 5 for the strips of lining fabric.
Step 7
Lay the back side of the lining on the back side of the obi. Match all seams and make sure the lining is centered perfectly so that one half inch of upholstery fabric extends beyond the lining along all the edges.
Step 8
Fold the raw edges of the upholstery fabric under twice, 1/4 inch each time. Pin in place. Machine stitch close to the inside folded edge. Trim all loose threads.
Tip
One of the elements that makes a kimono obi so beautiful is the choice of fabric. Choose a fabric that is unique, such as one that has an embroidered design.
If the upholstery fabric is plenty stiff, you may not want to use the interfacing. You may also want to omit the interfacing if you want more flexibility to your obi in order to make tying it easier.
Warning
Some fabrics require less heat than others, so test the heat of your iron on a small piece of scrap fabric before you press your obi in order to avoid leaving a burn mark on your obi.