Things You'll Need
Fresh pig's head, cleaned, eyes and tounge removed

Vegetable brush

Sharp paring knife

4 tbsp. kosher salt

Hot water kettle

1 tbsp. garlic powder

1 tbsp. onion powder

2 cups honey

Whole peeled fresh onion

1 cup white wine

Tinfoil

Basting brush

Meat thermometer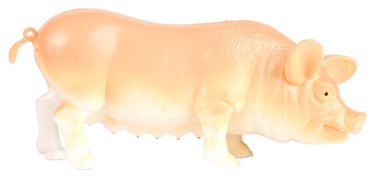 As the first domesticated farm animal, pork has been a popular meat around the world for hundreds of years. While chops, tenderloin and ground pork are all commonly sold in supermarkets, the pig's head can also be used to create a spectacular, albeit atypical, meal. Not generally looked upon as a source of meat, the head of a pig contains succulent flesh that is best when roasted. Simple to create at home, cooking a roasted pig head is sure to be a talked-about centerpiece for any meal.
Step 1
Place the head in the sink and run cool water over it. Scrub all over the outside of the pork using the vegetable brush.
Step 2
Cut off any excess fat hanging off of the head using the paring knife. DIscard the fat cuttings.
Step 3
Sprinkle the kosher salt evenly over the head. Rub it in using your hands, in to every crevice.
Step 4
Heat enough water to cover the head with the hot water kettle. Stopper the sink and pour the boiling water over top.
Step 5
Allow the water and head to completely cool. Remove from the water and rinse well to remove any remaining brine.
Step 6
Dry the head thoroughly using the paper towels, ensuring all cavities have been driend including the mouth. Place the head in the baking pan.
Step 7
Mix the garlic powder, onion powder and tarragon together in the small bowl. Sprinkle them over the head evenly, rubbing them in to the skin.
Step 8
Cover the head with the honey, reserving 3 tbsp. and ensuring that it is all over the meat evenly. Insert the whole onion in to the mouth. Pour the white wine around the head, evenly covering the baking dish.
Step 9
Place small pieces of tinfoil over the ears to prevent them from burning during the cooking.
Step 10
Preheat the oven to 375 degrees Fahrenheit. Mix the remaining honey with 4 tbsp. of water. Insert the head in to the oven and cook for one hour and 30 minutes.
Step 11
Reduce the oven's heat and cook for another two hours. Remove the tinfoil to allow the ears to cook as well.
Step 12
Baste the head with the honey mixture every hour. Remove the head when it is cooked -- a meat thermometer inserted in to the deepest part of the meat, without touching the bone, will read 170 degrees Fahrenheit.
Step 13
Remove the head and tent it with tinfoil. Allow it to rest for 30 minutes before serving.
Tip
Serve with a gravy or sweet compote to accent the flavors of the meat.