Things You'll Need
Flat surface

Bubble wrap

Scissors

Tape

Cardboard mailer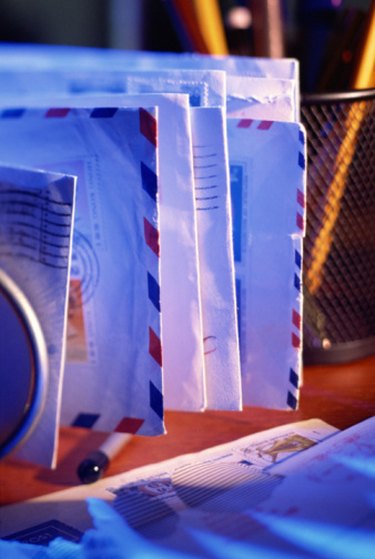 Sometimes, you may need to send metal through the mail system. If you have a piece of metal or a metal token that you need to send in an envelope, then you'll need to wrap the item carefully as to ensure the item does not tear the envelope and/or fall out before being delivered. While mailing metal is allowed, you want to make sure it reaches your intended recipient so as not to defeat the purpose. Consider the item you're mailing when choosing the correct packaging to send it.
Step 1
Place your metal object on a flat surface.
Step 2
Unroll a length of bubble wrap and place the metal object on the bubble wrap.
Step 3
Use a pair of scissors to cut the length of bubble wrap needed to wrap your metal object.
Step 4
Take the metal object off the bubble wrap.
Step 5
Re-position your metal object at the bottom, left corner of the bubble wrap sheet.
Step 6
Curve a small corner around the metal object and tightly roll the metal object in the bubble wrap.
Step 7
Secure the bubble wrap to the object with tape.
Step 8
Slip your metal object – now wrapped in bubble wrap – into a cardboard mailer.
Step 9
Seal the envelope with the adhesive strip provided on the envelope.
Tip
Consider purchasing a sturdy envelope – such as a cardboard mailer – if you're worried that your metal item could puncture a standard mailing envelope.
Add a double layer of strength to your envelope by placing packing tape over the back of it.
Warning
Avoid sending any metal object that is extremely sharp. Think of this process in the same way you would for throwing away a metal object. You would not want a sanitation officer to get wounded by picking up your trash, just as you would not want your mail carrier to get wounded picking up your mail.