Things You'll Need
Fabric

Iron

Ironing board

Iron-on fabric adhesive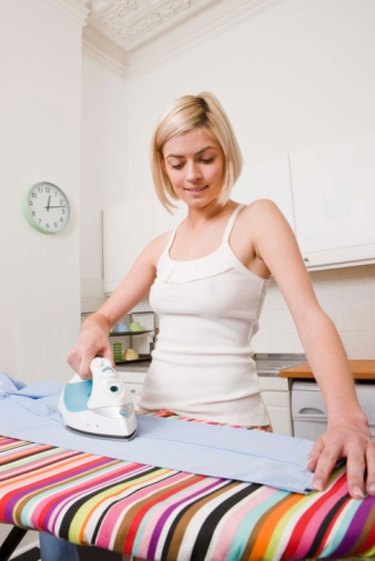 With the introduction of permanent iron-on fabric adhesive, no-sew fabric projects became much simpler. Also known as fusible web, iron-on fabric adhesive comes in tape and sheets, and is melted between two pieces of fabric to permanently bond them together. You can use iron-on fabric adhesive to repair hems, mend seams, or even make entire projects, such as bags and no-sew quilts. It is machine washable, and you can use it with any type of woven fabric.
Step 1
Wash and dry both pieces of fabric, without fabric softener.
Step 2
Set the iron on the silk setting and allow it to heat up. Trim the iron-on fabric adhesive to the size or shape needed.
Step 3
Put the iron-on fabric adhesive paper side up on the back of one piece of the fabric. Iron the adhesive for two to three seconds without adding pressure to the iron.
Step 4
Allow the fabric to cool for 30 seconds to one minute, then carefully peel back the paper.
Step 5
Place the other piece of fabric into position right side up on the first piece. Iron it with slight pressure for five to ten seconds. Allow it to cool for up to one minute.
Step 6
Gently tug on the fabric to ensure a tight bond. If the fabric is not bonded, iron for an additional five to ten seconds.