Things You'll Need
Sheepshead fish

Lemon juice

Salt

Pepper

Parsley

Butter

Anchovy essence

Eggs

Flour

Paprika

Seasoned bread crumbs

Knife

Fish kettle

Double boiler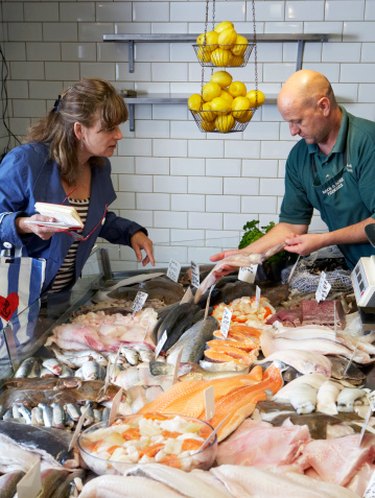 When it comes to cooking sheepshead, almost anything goes. This is a very versatile fish, which is a member of the porgy family, and can be cooked in a multitude of ways. One of the simplest ways to cook sheepshead fish is to dip the fish in egg, coat with bread crumbs, and fry until golden brown, although they also broil and bake exceptionally well. Their rib and backbone structure is slightly complex, so they can be hard to fillet. If you are planning on filleting sheepshead yourself before you cook them, give yourself extra time to clean them.
Different Ways to Cook Sheepshead
Step 1
Clean the fish, salt it, and soak it in cold water for an hour. After an hour, remove it from the water, wipe it dry, and use a knife to score both sides of the fish. Place the sheepshead on the drainer of a fish kettle, squeeze lemon juice over it and cover the fish with a 50-50 mixture of milk and water. Add salt and pepper and minced parsley to taste and cook over a low heat, simmering gently, until the fish is cooked. Drain the sauce from the fish kettle to serve separately.
Step 2
Clean the fish and make several deep cuts along the sides. Broil, seasoning the fish with salt and pepper to taste, and baste with oil. Melt a half cup of butter and add some lemon juice and two tablespoons of anchovy essence. Pour the mixture over the broiled fish and serve.
Step 3
Clean fish fillets and dip into salted milk. Then lightly flour the fillets and dip into a bowl of beaten eggs, covering thoroughly. Coat with seasoned bread crumbs and fry in deep fat until done. Serve with your favorite sauce.
Step 4
Clean the fish, season it with salt and pepper, and steam it for an hour. Once the fish is steamed, carefully place it on a serving plate, garnish with parsley and lemon, and serve with a drawn butter sauce.
To make drawn butter sauce, melt 1/4 cup butter in a double boiler. Stir in 2 tablespoons flour, 1/2 teaspoon salt, 1/8 teaspoon pepper, and 1/8 teaspoon paprika. Then slowly stir in 1 cup of water and cook until thickened. Before pouring over fish, mix in 1 teaspoon of lemon juice and 2 tablespoons minced parsley.