A yarmulke, or kippah, is a head covering worn by Jewish males that signifies their devotion to God and the Jewish religion. The yarmulke is worn by most Jewish men during times of prayer, and worn by orthodox Jewish men at all times. Male visitors to a Jewish synagogue must also cover their heads during times of prayer. To learn about the Jewish religion or to have a head covering on hand for prayer times, you can make a temporary yarmulke from paper.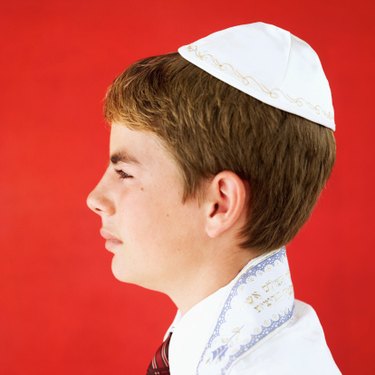 Things You'll Need
Pencil

Ruler

Hair Pins

Drawing Compass

Crayons Or Markers

Scissors

Cardstock Paper

Glue Stick
Step 1
Draw a seven inch diameter circle onto a piece of cardstock paper with a drawing compass and pencil. Mark the center of the circle with a pencil.
Step 2
Cut out the circle using scissors.
Step 3
Draw a straight line from the outside edge of the circle into the center using a ruler as a guide to keep the line straight.
Step 4
Cut along the line with scissors.
Step 5
Overlap the cut ends of the paper by about 1/2 inch to make a cone shape. Glue the two ends together with a glue stick. Alternative use a strip of tape on the inside of the yarmulke.
Step 6
Flatten the point on the yarmulke with your finger to give it a rounded top rather than a pointed top.
Step 7
Hold the yarmulke in place on the back of the head with hair pins.
Tip
Allow children to decorate the yarmulke with crayons or markers if the head-covering is for a child. They can place traditional Jewish designs on the yarmulke, such as a Star of David, menorah or other Jewish designs. Decorate the yarmulke with any combination of colors or symbols. You can even write words on the yarmulke in any language. There are no distinctions to the decoration of yarmulkes in Jewish law according to the yarmulke supplier EgoKippot. Black traditionally signifies mourning and plain white typically signifies celebration and purity.