Things You'll Need
Fresh shaggy mane mushrooms

Paper towel

Mushroom brush

Sharp knife

Cutting board

Food dehydrator

Plastic mesh screen

Thread

Coarse or pickling salt

Pickling brine and spices

Large sauce pan

Bowl of ice water

Colander

Skillet

Butter

Freezer bags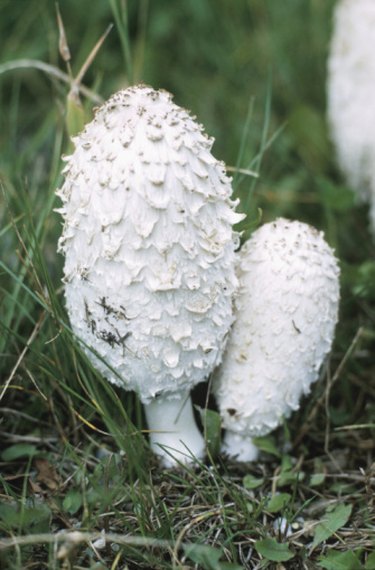 Wild mushrooms are a bit intimidating for most people. As valued as they are for their distinctive flavors, the potential for illness or even death dampens the average American's enthusiasm for mushroom foraging. Shaggy manes are tasty, but short lived, and are easily identified. After only a few days they turn black and slimy, accounting for their other popular name, "inky cap." Fresh shaggy manes must be used immediately or preserved for later use.
Step 1
Wipe the mushrooms clean with a dampened paper towel. Do not wash shaggy manes, they are very delicate and will be damaged. Trim the stems and cut off any portions that are visibly damaged by insects or rough handling.
Step 2
Dehydrate shaggy mane mushrooms by slicing about 3/8-inch thick and spreading them in a single layer in your dehydrator's trays. They may also be threaded and hung in a warm, well ventilated location or spread in a single layer on a plastic mesh. Shaggy manes lose flavor when dried, so this is not a preferred method of preservation.
Step 3
Pickle shaggy manes using your favorite recipe for pickling cucumbers. Use small mushrooms whole and cut larger ones in half. The pickling process will relegate the natural flavor of the mushrooms to a supporting role, but they are still very tasty and make an excellent addition to a tray of hors d'oeurvres or antipasto.
Step 4
Freeze whole, uncooked shaggy manes by blanching them for 15 seconds in boiling water, then plunging them into a bowl of ice water to chill. Remove the mushrooms immediately to a colander and allow them to drain for 30 minutes. Bag tightly in heavy duty freezer bags, squeezing out any surplus air. Freeze for up to four months. Use in soups, sauces and other preparations where the change in their texture will not be noteworthy.
Step 5
Saute shaggy manes in a heavy skillet in a small amount of butter. Leave small ones whole and cut larger ones in half. Cook until the liquid has cooked out of the mushrooms and evaporated. Cool the mushrooms completely and freeze them in single portions in heavy duty freezer bags for up to four months. This is the method that best captures the delicate and elusive flavor of fresh shaggy manes.
Warning
Wild mushrooms should not be consumed unless they have been picked by, or under the supervision of, a trained mycologist. Purchase shaggy manes only from a reputable vendor. Do not eat wild mushrooms raw as many varieties are safe when cooked but dangerous when raw.