Things You'll Need
Small scrub brush

Paper towel

Fork or knife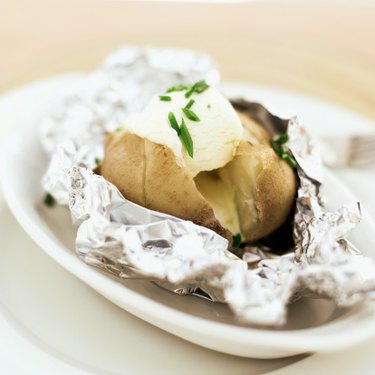 If you prefer your baked potato to have a soft, tender skin rather than a crispy one, wrap the spud in foil before baking it. Foil-wrapped baked potatoes feature a steamed skin and fluffy interior. Foil-wrapped potatoes may stay hotter for a longer amount of time than than their non-foil wrapped counterparts. Serve the baked potatoes with traditional toppings such as sour cream, chives, crumbled bacon, butter or shredded cheese. Enjoy the potatoes alone or as a hearty side dish.
Step 1
Choose a baking potato without any soft spots, bruises or sprouts. Wash the potato with water and a small scrub brush to remove any dirt on its skin. Pat the potato dry with a paper towel. Preheat your oven to 425 degrees Fahrenheit.
Step 2
Deeply pierce the potato four times on each side with a fork or sharp knife to create steam vent holes, which will prevent the spud from exploding in the oven.
Step 3
Place the potato in the center of a square piece of foil. Wrap the potato tightly with the foil to create a secure seal.
Step 4
Place the foil-wrapped potato on your oven's center rack and bake it for 45 to 60 minutes, or until its center is tender when pierced with a fork or knife.
Warning
Use a pot holder when removing the potato from the oven to avoid burning your hands.