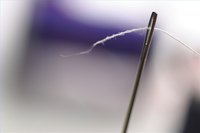 How to Make a Yo-Yo Doll. Yo-yos are gathered, lightly stuffed circles of fabric that are used to make ornaments, clothing decoration and many other craft projects. This cute little doll is a great way to use up scrap sewing and quilting fabrics.
Things You'll Need
Fabric-marking Pens
Fiberfill
Scrap Fabrics
Sewing Machine
Sewing Needles
Skin-toned And Black Or Brown Knit Fabrics
Thimbles
Threads
Scissors
1-inch Elastic
Gather your fabric scraps and refer to the directions given in the "Make Yo-Yos" section of the "Make Yo-Yo Wreath Ornaments" eHow (see Related eHows). Make 7 yo-yos out of 8 1/2-inch circles, 14 yo-yos out of 7 1/2-inch circles, and 14 yo-yos out out of 5 1/2-inch circles.
Use scissors to cut out a small slit, 1 to 1 1/2 inches long, at the center of each fabric circle before assembling the yo-yos.
Cut two 6 1/2-inch circles out of stretchy knit fabric. Sew the circles together (right sides together) stitching about 1/4 inch from the raw edges. Leave a 1-inch space unstitched.
Draw and cut four small stocking shapes out of a brown or black knit fabric, and cut four mitten shapes out of the same fabric used in step 3. Stitch these shapes, right sides together, to make two hands and two feet.
Turn the circle right side out and stuff with polyester fiberfill or batting. Hand sew the opening closed. Do the same for the feet and hands.
Take two pieces of 1-inch elastic and hand or machine sew a foot to each end. Sew at the tops of the foot shapes. Slide seven medium-size yo-yos onto each piece of elastic and five large yo-yos over both.
Take another piece of 1-inch elastic, about 8 inches long, and place it between the two existing pieces of elastic. Pin the two elastic pieces together so that the third piece remains in place. String seven yo-yos onto each end of the third piece of elastic and sew a hand onto each end.
Remove the pins, but keep hold of the two free ends of the elastic and place two large yo-yos over both ends. Pull the elastic so that the yo-yos that make up the doll's neck, torso and legs fit snugly together.
Trim any excess elastic and sew the two ends of elastic to the bottom of the doll's head. The elastic should be trimmed to a length that allows the yo-yos to stay in the position reached in Step 8.