Things You'll Need
Vacuum

Bruce Touch-Up Kit

Bruce Fresh Finish

5-gallon bucket

Sponge mop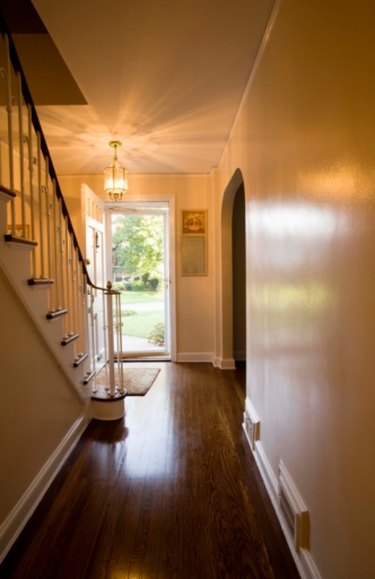 Bruce hardwood flooring, manufactured by Armstrong World Industries, Inc., is a hand-scraped hardwood plank floor. These floors come in a variety of finishes, all of which, according to the company, are durable and easy to clean. Armstrong sells many different cleaning products, which they recommend using on their floors for routine cleaning and maintenance, including several items that you can use for restoration purposes. With the proper materials and application method, you can restore a Bruce hardwood floor to its original state.
Step 1
Clean the floor with a vacuum that has a soft brush bottom. Remove all dirt and debris from the floor before beginning the restoration process.
Step 2
Fill in small gouges with a Bruce Touch-Up Kit filler stick. Gently squeeze the material into the gouge so that it completely fills it and comes just above the surface of the floor. The filler sticks come in seven different shades. Consult the care information that you received when you purchased the floor or it was installed for information on the best shade for your floor. If you do not have any information on your floor, contact the Armstrong customer service center at 1-800-233-3823 or go to a store that sells Bruce hardwood floor products, where a clerk can help you match the correct color.
Step 3
Wait for the filler material to dry.
Step 4
Sand the dried filler down flush with the floor's surface. The Bruce Touch-Up Kit comes with a buffing pad. Use this pad and not sandpaper, which could scratch your floor.
Step 5
Pour Bruce Fresh Finish into a 5-gallon bucket. Bruce Fresh Finish is a urethane dressing designed to restore Bruce hardwood floors that have been scratched or worn down by high traffic.
Step 6
Dip a sponge mop into the bucket and completely coat it with the cleaning material. Then squeeze the sponge so that excess liquid does not get on the floor as you mop.
Step 7
Mop the entire floor. Start at the end of the room and work your way backward so that you don't walk on the floor that you just mopped.
Step 8
Wait for the floor to dry completely before walking on it.
Tip
Contact Armstrong or the local store where you purchased your Bruce hardwood floors. If you have an area of the floor that has been seriously damaged, such as a deep gouge, the company has replacement planks.