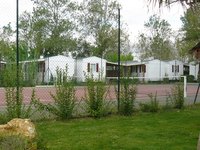 Vintage mobile homes are a quaint alternative to traditional housing with more privacy than an apartment and less cost than a house. Mobile home construction evolved from that of trailers in approximately 1960, starting with the first 10-foot-wide home in 1956. According to The Free Dictionary by Farlex, "The term mobile home describes factory-built homes produced prior to the 1976 HUD Code enactment." Some of the challenges faced when restoring a vintage mobile home are unlike any other. The reward is updated living quarters to satisfy your taste and budget. Restoring your vintage mobile home step by step will pay off in multiple ways for years to come.
Things You'll Need
Sheet metal
Caulk gun
Construction adhesive
10-inch warehouse broom
Roof coating, 5 gallons
Household bleach
Rubber gloves
Skirting repair tape
Cleaning cloths
Claw hammer
Angle broom
Plastic bucket
Painting supplies
Stain blocking primer
Detergent
Glitter
Glitter gun
Tinted wood filler
Plastic putty knife
Mayonnaise
Clear caulk
Plywood
Tape measure
Pencil
Jigsaw
Wood screws
Check the roof for damage, especially if you have brown water stained ceiling tiles. Repair larger damaged spots with sheet metal cut at least 5 inches in diameter larger than the damaged area. Secure the sheet metal to the roof with a caulk gun and construction adhesive. Repair small leaks around pipes and chimneys with a caulk gun and construction adhesive. Use a warehouse broom to apply roof coating to the entire roof, much like you would use a paint brush and paint.
Inspect for electrical issues. Examine the sinks, bathtub, toilet and the plumbing pipes for leaks. Repair any small leaks with construction adhesive to provide a watertight seal. Call a plumbing professional or an electrician for serious problems.
Mix a solution of 1 part household bleach to 1 part water in a plastic bucket. Put on rubber gloves and clean the refrigerator, countertops, sinks, bathtub and the exterior of the toilet. Clean the exterior walls and skirting of the mobile home with the same type of solution. Repair holes in the skirting with skirting repair tape or replace the damaged skirting panel. Paint the exterior of your mobile home. Think Colonial yellow with burnt orange doors and white trim. White with meadow green or bright Inca blue doors and shutters could work well. Coral pink, pueblo red or sandstone with white trim would also help to authenticate your vintage mobile home.
Strip the flooring down to the bare wood. Use the claw end of a hammer to pull up difficult carpeting or linoleum. Remove debris with an angle broom. Get a bucket of soapy water. Wash down ceiling and any walls made of drywall. Mop the floor. Rinse the ceiling, walls and floor with clear water. Paint the walls eggshell white, but make one wall different and special. Cover it totally in mirrors, an artistic mural or a bright solid color. Paint over any brown ceiling spots with a stain- and odor-blocking primer. Paint the ceilings white.
Clean any wood trim and real wood paneling, such as knotty pine, with a solution of mild detergent and water. Repair nail holes and gaps with tinted wood filler to match the stain of your wood. Use a plastic putty knife to apply a thin layer of food grade mayonnaise, the same type you would use on a sandwich, to cover the wood. Salad dressing will not do; it must be real mayonnaise. Allow it to sit overnight. Remove the mayonnaise with a damp cloth. Buff dry with a clean dry cloth. Apply clear caulk around the interior and exterior window and door frames.
Check the floor for soft spots caused by a previous roof leak. If you find a soft spot, cover the floor of the entire room with plywood. Measure the floor with a tape measure. Measure the plywood to fit the floor and mark it with a pencil. Cut the plywood with a jigsaw. Install the plywood by countersinking wood screws. Install your choice of new flooring. Linoleum in earth tones or burnt orange, supplemented with shag area rugs, would be appropriate for older mobile homes.