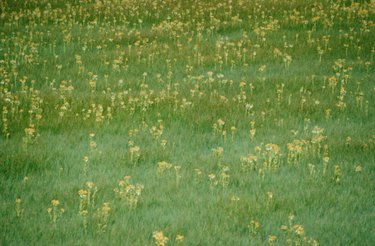 Winter weeds typically grow in warm-season grasses during the fall and winter months, when cooler temperatures and dormant grass favor their development. This results in a poor appearance throughout these months, in addition to quick weed growth the next spring, as grass struggles to grow in these weed-infested areas. Preventive measures work best to control winter weeds, but several methods exist to effectively control and kill lawn weeds in the winter as well.
Step 1
Pull weeds appearing in your lawn over the winter months. This works best if only a few weeds appear in your lawn or your lawn is relatively small. Remove weeds with a shovel and dispose of in the trash or compost pile. This ensures complete root removal and prevents further weed growth from the same plant.
Step 2
Apply post-emergent herbicides to control winter weeds. These herbicides harm lawns if used before grass goes completely dormant. Always water the lawn with at least 1/2 inch water following herbicide application for best results. Spot treatment proves effective for weed control in limited areas and is more environmentally-friendly.
Step 3
Purchase a non-selective herbicide to use on winter weeds if they compose the majority of your lawn and you choose to reseed or lay new sod. Apply the non-selective herbicide in late winter or early spring, around February, suggests University of Arkansas Cooperative. Seed the area in two to three months with a grass species appropriate for your local climate and individual growing conditions.
Tip
Use pre-emergent herbicides in the fall to prevent winter weed problems in the future.