Things You'll Need
Elmer's Wood Filler

Latex gloves

Putty knife

Sandpaper or a rotary hand sander

Primer and paint (optional)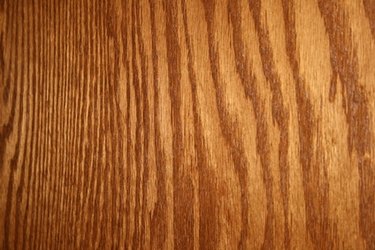 Unwanted holes or chips in your wood furniture do not mean the end of your favorite household pieces. Filling the gaps is something that can be done at home with only a few supplies and a little bit of patience. Hardware stores carry wood fillers or putty, and Elmer's is a good choice if you are looking for something without a harsh vapor and that comes in a variety of colors.
Step 1
Choose a color of Elmer's Wood Filler that is closest to the color of the wood you will be filling. Once dry, the wood filler can be painted, but it is best to match it as close as possible to the rest of the piece.
Step 2
Make sure the hole you are filling is clean and free of any dust and debris. Wear latex gloves to avoid skin irritation from the wood filler.
Step 3
Squeeze the wood filler into the area that needs filling and level it off with the putty knife. Try not to overfill the gap too much. However, slight overfilling may be desirable, depending on the hole, to ensure smooth edges.
Step 4
Let the filler dry completely. Small fixes may only require a few hours. Larger areas will need up to 24 hours.
Step 5
Sand the dried wood filler with sandpaper until smooth. For larger areas, you may want to use a rotary sander. If the dried filler has shrunk or is not completely smooth with the edges, add more filler and repeat the process.
Tip
If painting your finished piece, first use a coat of primer because the paint will be absorbed differently on the section with wood filler.