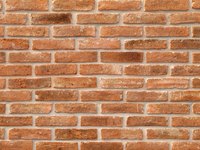 Part of Prosoco's lineup of liquid air and water barriers and flooring treatments, Sure Klean 600 -- a construction cleanup solution for newly laid masonry, tile and concrete -- relies on hydrochloric acid to cut through unsightly dirt and mortar. Prosoco says Sure Klean is safer than muriatic-acid-based cleaners, but the product nevertheless requires a bit of preparation and care for safe and successful usage.
Things You'll Need
Polyethylene sheeting
Nitrile rubber, neoprene or PVC gloves
Chemical splash goggles
Half-mask respirator with acid gas cartridges
Neoprene outerwear
Acid-resistant rubber boots
Pressure washer (50 psi maximum)
Wooden scraper (optional)
Prepare your work area with polyethylene sheeting, using the sheets as protective drop cloths. While it's ideal to clean your new masonry before installing windows, doors and fixtures, you can protect any finished floors, fixtures, windows, doors, hardware, roofing materials or other non-masonry items with these plastic drop cloths before applying Sure Klean 600.
Equip yourself with work gloves made of nitrile rubber, neoprene or PVC, as well as with chemical splash goggles, a half-mask respirator with acid gas cartridges, and splash-resistant neoprene outerwear and boots before working with acid-based Sure Klean 600.
Fill your pressure washer's tank with 1 part Sure Klean 600 diluted with 4 to 12 parts clean, cold water. You'll need about 1 gallon of the mixture per 50 square feet of porous, textured surfaces or 150 square feet of smooth, dense surfaces.
Set your pressure washer to a low-pressure spray and apply the solution to the entire surface of the masonry, working from bottom to top. Allow the solution to rest for three to five minutes, then repeat the application. Use a wooden scraper to remove excess mortar from the surface if necessary.
Spray the surface with clean water to completely rinse away the cleaner and remove loose debris, dust and sand. Work from bottom to top. Repeat the application and rinsing process as needed.