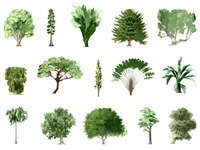 Landscape paintings continue to reign as some of the most intricate and popular types of paintings in the world, made famous by renowned artists such as Thomas Cole, Frederic Church and Claude Lorraine. Paintings of nature scenes often include including water, mountains and trees. If you want to paint realistic trees in a piece of artwork, use the right supplies and techniques.
Things You'll Need
Brown acrylic paint
Green acrylic paint
Black acrylic paint
White acrylic paint
Paintbrush with fine tip
Art paper or canvas
Dip a paintbrush into the brown paint and paint a long, curved line in an "L" shape on a piece of art paper or canvas where you want the right side of one tree to be. This creates the trunk of the tree and can be as long or short as you want. Curving the sides of the tree into the ground rather than straight down makes the most lifelike tree, as it makes the tree appear as though it is actually growing out from the ground as it should, rather than just sitting on top of the ground.
Paint branches extending upwards from the trunk of the tree, shaping the perimeter of the branches in an ace of clubs shape, with one group of branches to the left, one to the right and one on top.
Rinse your paintbrush, dip it into the green paint and paint leaves on the tree. Start by painting around the left group of branches, covering most of the branches with leaves and leaving only a few small areas bare with branches showing through. Continue adding leaves around the top and right side of the tree.
Rinse your paintbrush, dip it into the black paint and paint an outline around the leaves on the right side of the tree, continuing down the trunk and across the ground under the branches and leaves on the right side to create shadowing.
Rinse your paintbrush, dip it into the white paint and paint short strokes across the tops of the leaves on the left side to add highlights and help make the tree appear more three-dimensional.