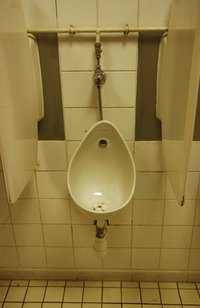 The smell of urine is not a pleasant odor and tends to linger in the air around bathrooms and urinals. Regular cleaning will help prevent lingering odors but will not resolve the problem completely as the urinal will need deodorizing. You do not need to use bleach for cleaning as homemade solutions are less expensive and nontoxic, which makes them easier to work with. The cleaning solution will not take long to mix and can be used regularly to make the urinal smell nice.
Things You'll Need
White vinegar
Baking soda
Mix 1/2 cup baking soda, 1/2 cup of white vinegar, 1 tsp. lemon juice, and pour the contents into a clean, empty spray bottle. Top the spray bottle with warm water and shake.
Spray the cleaning solution in and all around the urinal. Baking soda and vinegar are natural deodorizers and cleaners that will absorb urine smells. Lemon juice is also a natural cleaner that will give the urinal a fresh, citrus smell.
Allow the cleaning solution to sit in the urinal and reapply regularly to prevent a buildup of odors.