Things You'll Need
Raffia skirt

Beads, bells, ribbons, plastic insects (optional)

Fabric

Needle and thread

Slip-on shoes

Double-sided tape

Rub-on tattoos or tattoo sleeves

Face paint

Clip-on bone

Plastic bone jewelry

Doll's head

Large stick

Super glue

Wig (optional)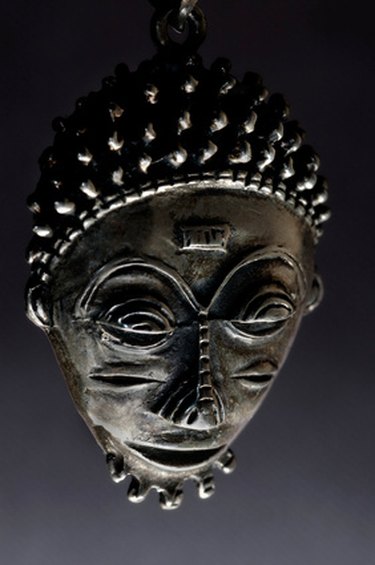 When people think of witch doctors, they generally think of wild-looking characters from uncharted regions of Africa or the Caribbean Islands. A part of a tribe, these individuals -- known for their extreme outfits -- work to counteract evil doings through amulets, medicine, exorcism and special rites. The strange clothing choices might include animal skins and bones taken from sacrifices. In order to pull off a convincing witch doctor costume, you need to exude a confident attitude. Witch doctors stood apart from the tribe and created an air of mystery around themselves.
Step 1
Wrap a long grass skirt around your waist. Purchase a raffia skirt from a party supply store. It can be natural raffia, dyed green or any other color you desire. String bells, beads or small plastic insects randomly on the ends of the raffia to make noise as you walk.
Step 2
Drape a rectangular piece of fabric over your shoulders. The size of the fabric will be determined by how much coverage you desire. Choose from plain or animal-print fabric, either in a silky or a fake-fur material. Cover both shoulders and tie the cloth in the front, or create a one-shoulder toga.
Step 3
Cover a pair of slip-on shoes with raffia or a piece of fake fur. Tie a knot in a handful of raffia. Sew the knot on top of the shoe with a needle and thread. You can sew raffia on the back and sides of the shoe as well. If you are using fake fur, cut a piece that will overlap the top of your shoe and then secure it with double-sided tape, or a few stitches.
Step 4
Wear a wig with long, straggly hair. The wig can be dreadlocks, a fright wig or any wild look that you can find. Tie raffia, ribbons, bells, beads, plastic bones or small plastic insects in the wig. If you don't want to buy a wig, backcomb your hair and ruffle it up so it looks messy.
Step 5
Apply rub-on tattoos to your face, arms and legs. Alternatively, you can cover your arms with tattoo sleeves and apply lines of face paint to your face.
Step 6
Clip a fake bone onto your nose. This lightweight piece can be found in costume shops along with bone bracelets or earrings. Wear bone bracelets on both arms and ankles. You can string jingle bells on a piece of elastic as a substitute for the bones.
Step 7
Stick a small doll's head on a large stick with super glue. Make it look like a shrunken head by tangling the hair and smudging makeup on the face. Tie several long pieces of raffia and ribbons around the stick, under the head. String beads and bells on the ends of the strands to make noise as you walk with your voodoo stick.
Tip
If you can't find fake bones, make your own with air dry modeling clay.
Fill some small glass bottles with water and various colored food dye, which will serve as medicines and potions. Make a belt out of torn fabric and hang the potions from the belt with some leather cord.