Things You'll Need
Brown skirt and shirt or vest

Brown lightweight fabric

Double-sided fabric tape

Scissors

Beaded jewelry

Feather

Brown shoes or boots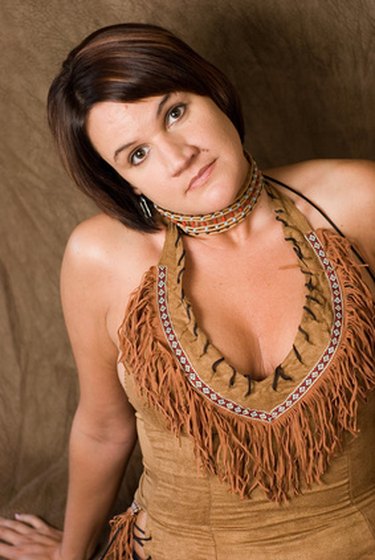 For the sewing challenged, making a costume for a party or Halloween can be difficult. With a little planning and creativity, however, you can put together a costume that is easily recognizable and appealing. For an Indian costume like Pocahontas, you can use items from your closet and some simple, stitch-less modification to fashion something fit for parties. An Indian costume can be as simple or as detailed as time and money will allow.
Step 1
Select clothes from your closet. A brown skirt and top or vest make a good beginning to an Indian costume.
Step 2
Add fringe. Take any kind of brown lightweight fabric and cut a rectangular strip the same length as the skirt's hemline. Cut vertical lines into the strip of fabric, stopping about an inch from cutting completely through. Attach the strip of fringe to the skirt with double-sided fabric tape by running the tape along the uncut portion at the top of the fringe and adhering it to the bottom of the skirt. The fringe can be the same color as the outfit or a shade or two off to create color contrast.
Step 3
Wear jewelry. Anything with beads works, as well as jewelry with silver or turquoise.
Step 4
Make a headband. Cut a strip of fabric equal to the circumference of your head. The headband should go around the forehead as opposed to over the top of the head. Connect the two ends with the double sided fabric tape. You can also use the tape to adorn the headband with feathers.
Step 5
Finish the look with brown shoes. Anything like moccasins work, so go for ballet flats or loafers. Boots are another viable option for footwear.