Things You'll Need
Step ladder

Screw-drive lubricant

Cloth

Low temperature silicone lubricant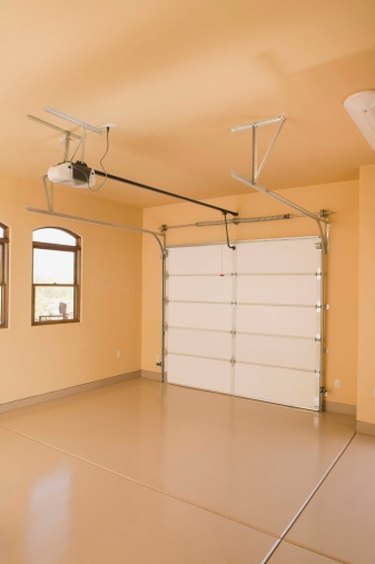 While some garage-door openers boast that they are maintenance-free, even chain-drive units that don't call for lubrication require regular lubrication of the garage door's moving parts. Most screw-drive garage door openers do require regular lubrication. If your screw-drive garage door opener seems to be performing poorly, lubricate it. Regular lubrication of about every six months will help give your garage door opener a longer lifespan.
Step 1
Remove the car from the garage and close the garage door. Use a step ladder to reach the garage-door opener bar on the ceiling, if necessary. Unplug the garage door opener power cord from the ceiling outlet to prevent accidental operation while you are working on the opener.
Step 2
Wipe the screw drive, which should be partially visible on the underside of the bar that runs from the motor to the door, with a cloth. to remove any old dirt and grease. Apply lubricant designed for garage door openers to the exposed screw drive, using the product's applicator (or wipe it on with a towel).
Step 3
Apply low-temperature silicone lubricant to the hinges on the garage door panels and to the rollers. Don't oil the part of the roller that moves up and down the track or the track itself; instead, oil where the rod meets the wheel.
Step 4
Plug the opener power cord into the ceiling outlet. Open the garage door using the door opener.
Step 5
Close the garage door. Open and close the door another three or four times to distribute the lubrication.
Tip
Check your garage door opener's manual for the recommended lubricant.
The hinges and rollers should be lubricated about once a month; lubricate the screw drive every sixth time you do maintenance on them.
If your garage door opener itself doesn't require lubrication, omit the screw drive steps, but still oil the hinges and rollers about once a month.
Warning
Make sure the garage door is clear of people or pets before closing.
Do not try and do maintenance on the garage door opener's springs. Only a professional should service those.