Things You'll Need
Christmas lights

Computer

Internet

Phone

Car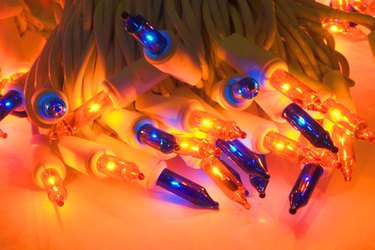 For some people, the most somber part of the holiday season is taking down the Christmas tree; however, this can be a good time to get rid of any holiday decorations that are broken, no longer working or simply not wanted anymore. Going through this ritual will make it easier to put your decorations up next year. When it comes to the disposal of your Christmas lights, recycling is the answer. Doing so keeps the lights out of a landfill and allows reuse of the copper wire that is inside of them.
Step 1
Find a drop-off location in your area, like a Whole Foods Market. There really is no single source that lists drop-off locations in every city and state in the country. Your best bet will be to call around to local stores that are dedicated to healthy living or environmentally friendly products, as these merchants will be most likely to participate in a recycling program.
Step 2
Separate your wanted lights from your unwanted lights. Before deciding which strands you want to get rid of, make sure there is not an easy fix for the problems that you are experiencing with the strand. Keep in mind that one faulty or missing bulb can prevent an entire strand from working. If you are upgrading to a different type of lights, then separating your wanted from your unwanted strands will be easy.
Step 3
Take your unwanted lights and leave them at a drop-off location. Although each location will have its own system in place to collect unwanted lights, you may have to do nothing more than show up and hand the lights over.