Things You'll Need
Measuring tape

Yarn

Circular or double pointed knitting needles

Scissors

Stitch marker

Tapestry needle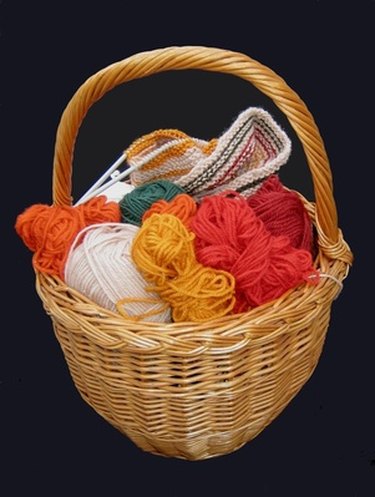 Rasta hats were originally worn by Rastafarians (or Rastas for short) as a way to cover their traditional dreadlocks. As such, Rasta hats generally tend to be voluminous, in order to accommodate the wearer's hair and head. Contemporary styles have adopted this look in the development of the slouchy hats or caps. These hats do not fit tightly around the head, and generally drape off the back. They can be simple hats to knit, and require very little shaping.
Step 1
Check your measurements and gauge. Use your measuring tape to determine the circumference of your head at its widest point, where the hat will sit. Knit a four inch by four inch swatch and measure the number of stitches per inch you get with your yarn and needles.
Step 2
Calculate your cast on and begin knitting. To determine how many stitches to cast on, multiply the number of stitches per inch from your gauge, by your head measurement. If your head is 22 inches in circumference, and your gauge is six stitches per inch, you will need to cast on 132 stitches initially. Use a stretchy cast on method, place a stitch marker and join for knitting in the round. Begin knitting in a two by two ribbing pattern: knit two, purl two and repeat.
Step 3
Knit in the ribbing pattern for three inches and then switch to stockinette. The ribbing will help the hat stay on your head. Stockinette stitch will produce a lovely drape. Knit in stockinette for at least three inches, though you may want to try on the hat and determine how much slouch you would like.
Step 4
Begin decreasing. After you have completed the amount of slouch that you want, decrease every other row, for at least five rows. Decrease by a third of your stitches, evenly spaced in each round. For instance, the first decrease round, knit three, knit two together, and repeat until the stitch marker. When you have approximately 35 stitches left on the needles, cut the yarn, leaving at least a 20 inch tail.
Step 5
Weave in the ends. Using your tapestry needle and the 20 inch tail at the crown of the hat, weave the tail through the live stitches on the needles two times. Remove the needles and pull the yarn tight. This will create a pleated look at the crown and help to increase the slouchiness of the hat. Use the tapestry needle to weave any other ends into the hat.