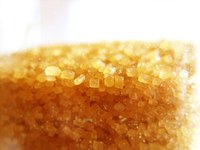 Molded sugar figures are attractive for adorning cakes and cookies and as table decorations for parties. Once you've made the molds you can add bows, glitter, sweets and chocolate chips to create patterns. You don't need any actual molds. Melting and molding sugar is easy; the main difficulty is handling the hot mixture. Sugar molds are also a popular decoration for Easter celebrations.
Things You'll Need
8 tablespoons of sugar
4 tablespoons of water
Juice of ¼ of a lemon
Wooden spoon
Saucepan
Plastic gloves
Silicone sheet
Melting Sugar
Put sugar in a saucepan and place over medium heat on a stove.
Keep stirring the sugar until it starts to melt.
Add the lemon juice and water and keep stirring until the mixture has the consistency of honey. Remove from the heat.
Molding Sugar
Pour the sugar mixture onto the silicone sheet while it's still hot. If you allow it to cool down it will no longer be malleable.
Put the gloves on to avoid burning your fingers and start peeling the mixture off the sheet, starting at the edges. Roll it into a ball so that you can shape it.
Shape the mixture into petals, leaves, animals or other forms.