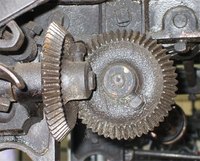 The gear box ratio is the difference between the RPM produced by the motor and the RPM measured after the gearbox. A gear box can either increase or decrease the RPM of a motor. A gear box ratio is noted A:B where A>B in a speed reducer and A<B in a multiplier.
Things You'll Need
Write down the rated RPM of the motor. RPM_motor = 10,000RPM in our example.
Turn the motor on and use a tachometer to measure the RPM after the gearbox. Write that number down. RPM_gearbox = 2500RPM in our example.
Divide the RPM_motor by RPM_gearbox and write down that number. In our example, 10000/2500 = 4 so our ratio is 4:1.
Simplify the fraction RPM_motor/RPM_gearbox instead of calculating the ratio.