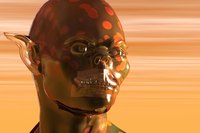 The Green Goblin has been one of Marvel Comics' most ruthless and enduring arch villains for decades. Once industrialist Norman Osborn, he was transformed into a bomb throwing maniac by a strength-enhancing experiment gone wrong. He continues to wreak havoc on the innocent and cause Spiderman all manner of problems.
Things You'll Need
Green tights or tight sweat pants
Tight green long sleeves shirt
Long white gloves
Pair of high boots
Rubber elf ears
Purple dye
1 yard of white stretchy cloth
White sleeveless shirt
White Speedo style bathing suit
Purple spray paint
Green spray paint
Bald cap
Green makeup
Vampire teeth
Dye the white shirt, bathing suit, cloth and gloves purple according to the direction on the dye.
Spray paint ears green and boots purple.
Measure around your head. Cut two triangles from the cloth. The base should be half the diameter of your head plus about 2 1/2 inches. The other two sides should each be about 24 inches long.
Lay one triangle on top of the other and pin together. Sew along the two long sides up to about 2 inches from the base. Cut the base of one triangle into a point. Turn inside out.
Put on bald cap making sure all hair is hidden.
Apply green make up to face neck and just beyond the hair line of cap.
Put on elf ears and and put on cap with the pointed side to the front pulled low over your forehead.
Put on the tights and long sleeve shirt. Over this wear the purple shirt, bathing suit, gloves and boots. Put in your vampire teeth.