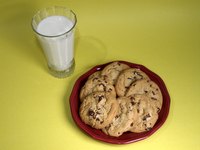 You don't have to be a kid to love cookies and milk. Show your affection for your favorite snack by dressing as a big glass of milk and cookies for trick or treat or a costume party. You can find everything you need at home to make a simple costume. For a few extra dollars you can create a contender for "best costume" award. You just might want to hand out cards that say "no dunking allowed."
Things You'll Need
Old white pillow case or two white bath towels
Cardboard or foam pillow
1 yard of wide ribbon
Crayons, magic markers or acrylic paint
Scissors
Safety pins
Glass of Milk
Hold two bath towels together vertically and match the corners. Pin the towels together at both top corners with safety pins to create a neck hole.
Put the towels over your head with one towel in front and one in back. Reposition the safety pins if necessary so the towels will rest on your shoulders without falling off.
Pin the towels together about one-third of the way down on each side to create arm holes.
Cookie Hat
Buy a round foam rubber pillow form at a fabric or craft store.
Paint or color the foam rubber tan, if it is white, to resemble a baked cookie. Draw brown chocolate chips all over the cookie with a magic marker.
Cut two slits through the top and near the sides of the foam. Insert the ends of the ribbon through the slits. Place the hat on top of your head and tie the ribbon under your chin.