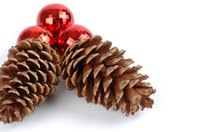 During the fall and winter months, nothing elicits fond memories like the warming scents of cinnamon and spices. During these months grocery and craft stores often sell pine cones scented with these favored fragrances. Store-bought scented pine cones are often expensive and only found during the holiday season. You can easily make your own scented pine cones at home using ingredients you may already have in your kitchen. Scented pine cones make nice decorations and gifts. When making your own you can make enough to last throughout the year.
Things You'll Need
Pine cones
Aluminum foil
Baking sheet
Medium mixing bowl
1 ½ teaspoons ground cinnamon
½ teaspoon ground nutmeg
¼ teaspoon crushed cloves
Cinnamon oil
Gallon size plastic zipper bag
White glue
Craft paintbrush
Making Scented Pine Cones
Preheat the oven to 250 degrees Fahrenheit. Place the pine cones on a baking sheet lined with aluminum foil. Bake for 45 minutes to rid them of any bugs or bacteria.
Remove the pine cones from the oven and set aside to cool for at least 10 minutes. While pine cones are cooling, you will create the spice mixture you will use to scent the pine cones.
In a medium mixing bowl, mix the ground cinnamon, nutmeg and cloves. Crush cloves so they are finer and easier to work with. Add 4 to 6 drops of cinnamon oil to help the fragrance last longer. Pour the spice mixture into a gallon-size plastic Ziploc bag.
Using a small craft paintbrush, lightly coat the edges of each pine cone with white glue. Put each pine cone into the plastic bag. Close the bag and begin to shake so each pine cone is evenly coated with spices.

Gently knock the excess spices off each pine cone. Set pine cones back on the cookie sheet to dry.
Place scented pine cones in glass dishes or baskets as a decoration. Scented pine cones make fragrant centerpieces or holiday gifts.