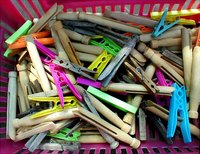 Ordinary wooden clothespins are dull and uninteresting. Each one looks exactly the same as the other. With a little creativity and craft paint, wooden clothespins can come alive and brim with their own "personality" without losing their functionality. Whether you use clothespins for stringing damp laundry on a blustery day or for hanging your children's school projects, there's no reason the simple spring-loaded gadgets can't be colorful, whimsical and useful.
Things You'll Need
Newspaper
Paper towels
Acrylic model paint
Paintbrush 1/4 inch
Paintbrush No. 2
Cup of water
Clear nail polish
Lay some newspaper down on your craft table and place a folded section of paper towel under the cup of water.
Shake each jar of acrylic paint thoroughly and then open only the paint colors you intend to use for the next few minutes.
Use the 1/4-inch paintbrush to paint the top side of the clothespin and let it dry.
Use the No. 2 paintbrush to paint fine details on the painted side of the clothespin. Give your clothespin its new personality and paint facial features, shapes, letters, numbers or other individual features. Let it dry.
Flip the clothespin over and paint the remaining bare top side of the clothespin. Let it dry completely.
Coat the entire clothespin with clear fingernail polish and let it dry before you use it.