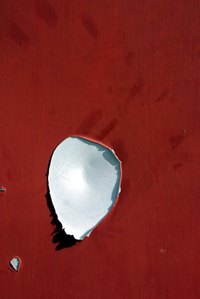 Painted walls can become damaged by nails, cracks and accidents over time. Repairing the damage can be a challenge, especially if you do not have the original paint color. Smaller chips can probably be repaired with just a can of paint, but larger holes will need to be filled in, sanded and repainted.
Things You'll Need
Paint scraper or putty knife
Joint compound
150-grit sandpaper
Primer
Paint
Paintbrush or roller
Apply lightweight joint compound to any nail holes or dents if necessary by smoothing it on with a putty knife or paint scraper. Leave a slight mound, as the compound will shrink as it dries.
Sand the area with 150-grit sandpaper until it is flush with the wall.
Apply primer with a paintbrush. Primer is only necessary if joint compound was used to fill a hole.
Paint the spot with the original wall paint if possible. If not, try to match the original color as closely as possible. If the wall was originally painted with a brush, use a brush. If a roller was used, use a roller to spot paint.
Apply a small amount of paint to the spot and "feather" the edges by starting at the outside edge of the touch-up area and working into the center. Feathering means drawing the brush from the area outside the spot to the newly painted area to create a transition that will blend the old with the new.