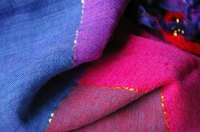 With a simple cushion made of an easy-care fabric, a bucket can double as a portable seat to take to picnics, playgrounds and campfires, or even for indoor use. You need not even sew the cushion, instead, you can cover a recycled cushion or a cut foam shape with the fabric and secure the fabric with staples. Finally, you can use the decorative bucket to store or transport camping and picnic supplies or toys.
Things You'll Need
Bucket, 5-gallon
Heavy cardboard
Pencil
Scissors or craft knife
Foam for cushion
Fabric
Staple gun
Tracing
Place the bucket lid on a piece of cardboard. Trace the circumference of the lid onto the cardboard with a pencil.
Cut this cardboard disc with scissors or a craft knife. This disc acts as a template for the foam cushion.
Cut the foam according to the template.
Covering
Place the fabric wrong-side up on a level surface.
Position the foam disc over the pre-shrunk fabric. Place the cardboard disc on top of the foam disc.
Bring up the fabric edges to cover the cardboard. Staple the fabric to the cardboard. The fabric should cover the cushion to look like a fabric disc.
Trim any excess fabric to allow the cushion to sit level on the bucket lid.