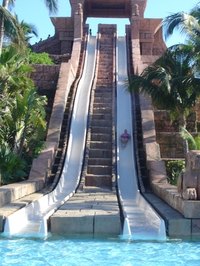 Whether you are building a water theme park or installing a home swimming pool, you may be in the market for a water slide. There are many retailers that sell water slides, though purchasing the item new can definitely put a strain on the budget. Fortunately, by doing a little bit of Internet research and contacting sellers and resellers, you may be able to find a used water slide perfect for your project.
Perform a general Internet search for water slides. This search should include the type of water slide that you want to purchase in addition to your location. For example, if you search "Water slide sales in Nashville", you will get several results for the city's pool, spa and water slide resellers. Then contact local water slide retailers and pool stores in your area. Even though these companies usually deal with new products, they may know of individuals in the area who are looking to sell their water slide. Some stores may even sell used water slides on commission for local individuals, so contacting these stores is a good way to get in touch with these individuals. Also, some pool and spa stores may rent used water slides, for those who do not want to pay for the slide outright.
Search online auction houses, such as Ebay.com. You may also want to search on websites such as Amusement Trader, which is an auction site for amusement park items, including water slides. Always check to make sure that the seller has a history selling items on the auction site and has a high rating. If possible, pay for your used water slide through a third party broker, such as PayPal, to insure that your financial information is kept safe and secure.
Contact a water slide or amusement park broker. For expensive water slides, especially those used in water parks, you should contact a broker who can locate and negotiate for a used water slide on your behalf.
Attend a real estate auction. You can find a listing for real estate auctions in your local newspaper under the auction heading of the classifieds section. If a home and property is being auctioned, you may be able to find pool equipment and hardware, such as a slide, up for auction as well.