A wax seal, typically bearing an embossed design, closes letters and packages, providing an indicator as to whether someone has previously opened it. While many novelty and stationery stores sell wax seals, traditionally, a wax seal is personal to its owner. According to Leslie Linsley, author of "Crafts for Dummies," a handmade wax seal is a simple craft you can pass down through your family as an heirloom. Only a few simple supplies and a bit of creativity are required to make your own wax seals.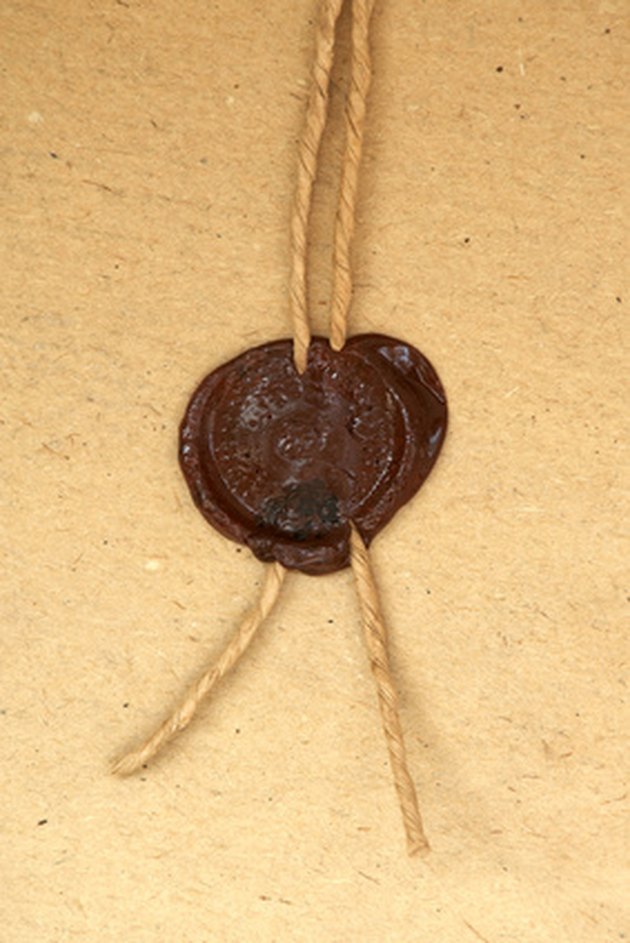 Things You'll Need
Air-drying clay

Pencil

Paper

Toothpick

Nonserrated knife

Colored candle

Lighter
Step 1
Sketch ideas for your wax seal onto a piece of paper until you find one you like. Consider using your initials, an outline of your favorite animal or your family's coat of arms.
Step 2
Roll a piece of air-drying clay into a 5-inch-long, 2-inch-thick cylindrical shape on a clean table surface. This will be the body of your wax seal.
Step 3
Use a nonserrated knife to slice off a half-inch from each side of your wax seal body. Cut straight down so you leave a smooth, flat surface. Discard the cut pieces.
Step 4
Carve the design you sketched earlier into one end of your wax seal with a toothpick. If you mess up, smooth it over with your thumb and start over. If you have two designs you like, carve another into the other side of your wax seal.
Step 5
Allow the clay to dry for the time specified by the manufacturer or for a minimum of 24 hours.
Step 6
Melt a colored candle onto the letter you would like to seal, using a lighter, until you have a quarter-sized puddle of wax.
Step 7
Press the carved end of your wax seal into the puddle, and hold for 20 seconds before pulling it straight up to reveal your personalized wax seal.
Tip
Specialty stores sell wax made specifically for letter sealing that has a different composition from normal candle wax.