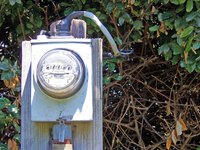 Traditional electric meters display turning dials or spinning discs which measure kilowatt-hours, or KWh, and are interpreted by reading each dial or disc separately, with each representing units of Watts in thousands, hundreds, tens and ones. New electrical meters simply present the total kilowatt-hours used by the customer on a digital display, not unlike an odometer shows distance travelled by a vehicle. Each numerical increase represents another kilowatt-hour used and electrical consumption can be monitored by subtracting a previous reading from a new reading to give the number of units used within a certain period.
Things You'll Need
Establish where the correct electrical meter is located for the property you wish to read; this could be in a garage or against an outside wall. Many properties may have electrical meters installed in a hallway, under a staircase or inside a cupboard.
Ensure that you have clear access to the meter; you may need a torch or stepladder to provide sufficient height and lighting in order to read the display. It is important to take an exact reading as an incorrect reading could result in a miscalculated account and an inaccurate invoice billed to the property.
Determine the type of digital meter you have, is it a single register or does it display two registers? Your meter may have a single row or alternatively, if your tariff gives you a lower nighttime rate as well as a standard or normal day rate, then your meter may display two rows of readings to represent the electricity consumed during these periods.

Write down the numbers shown on the digital meter from left to right, this represents the total amount of kilowatt-hours used by the property.
This reading may be submitted to your electrical provider who will subtract your previous reading from your new reading and will charge you accordingly for the electricity used.