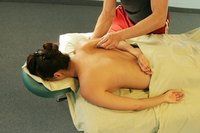 Massage therapists can now make their own face-cradle covers from cloth. Rather than using paper face-cradle covers, which are thrown away after each use, cloth covers can be re-used after laundering. With a few supplies, making your own face-cradle cover is a simple way to reduce what would end up in a landfill.
Things You'll Need
Sheet of butcher paper
2 yards of fabric (organic cotton or fleece)
Sewing pins
Sewing needle
Thread
Sewing scissors
Making a face-cradle cover
Choose a fabric. Fleece is a good option because it wicks away moisture, is soft and easy to work. Organic cotton is very soft; both are washable.
Place a paper face-cradle on top of your butcher paper. Butcher paper works well as a pattern template because it is strong and does not tear.
Draw a complete outline around the face cradle, 3 inches beyond the cradle's outside edges.
Fold the paper in half, and at the folded crease, cut upwards about 4 inches. This cut will allow the inner edges of the completed face-cradle cover to be tucked in to the center of the cradle, so the client's face doesn't touch the cradle itself.
Make a second cut (from where the first cut ends) about 1-1/2 inches deep at a 90 degree angle, so that the two cuts make a "T" in the pattern. This cut also allows for the cover to be tucked completely inside the center of the face-cradle.
Place the paper pattern on the paper face-cradle to make sure it completely covers the face-cradle and has extra for finish-stitching the sides, as well as the center.
Pin the paper pattern onto the cloth with the sewing pins close to the pattern's edges, and then cut out the fabric using the paper pattern as a guide. Depending on the size of your face-cradle, 2 yards of fabric should make four to six face-cradles.
Roll or double-fold raw edges of fabric to prevent unraveling, then hand sew the edges to finish. This step can be omitted if using fleece, because fleece doesn't run or snag when cut.