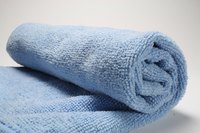 Silestone is a man-made material manufactured by mixing quartz stone with a binding resin then usually dying it a specific color. It also has a germ protection agent built in to the actual material making it safer for cooking and serving food. Silestone does not stain and with a minimum of care it can always look new. After a while, even the best Silestone counters and work surfaces lose a bit of the high luster for which they are valued. You can restore this luster and with proper care your Silestone counters will last the life of your house.
Things You'll Need
All-purpose mild liquid soap
Water
Sponge with non-metallic scrubbing back
Micro fiber cloths
Multi-purpose furniture spray
Remove all items on the surface you wish to shine. Wash the area with a sponge and mild liquid soap and water.
Rinse the soap completely and look to see if any stubborn marks or oil residue did not come off in the initial wash.
Spray those areas with an all-purpose cleaner and rub with the non-metal scrubbing back of the sponge until the mark comes off.
Dry the cleaned areas with micro fiber cloths and allow to dry completely for about two hours.
Shake the multi-purpose furniture spray vigorously. Spray a light coat of the furniture spray on the clean surfaces and allow to dry.