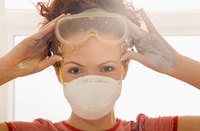 If your home has suffered water damage in the past from flooding or fire, you may have water damage behind your walls. There are other causes of water damage as well, including broken pipes, aquariums, water heaters, melting snow and even humidifiers. Water damage can cause serious health problems and pose risks for home or building occupants. For these reasons, it is important to determine whether you have underlying water behind your walls.
Things You'll Need
Face mask
Trash cans
Plastic covering
Ear plugs
Safety glasses
Reciprocating saw
Hammer
Thermal camera (optional)
Perform a moisture audit. This is done by observation. Look for peeling paint, deteriorated siding, rotted window sills, rotted window/door trim, brick/stone/mortar damage, plaster damage, wallpaper peeling and mold on and/or behind wallpaper. Print a home moisture audit for a checklist of what signs to notice.
Detect leaks using thermal imaging and noninvasive moisture testing. This method detects leaks quickly and does not require removing drywall. Thermal imaging provides infrared photos of leaks behind walls. Special equipment in the form of a thermal camera is necessary, but the cost of this equipment can run in the thousands of dollars. You may want to hire a thermal imaging company that has the expertise to do the assessment and can provide the necessary equipment.
Remove drywall or plaster. Wear safety gear, including gloves, safety glasses, ear plugs and a face mask. Lay plastic on the floor and have trash cans close by. Cut through the wall with either a reciprocating saw or a hammer, and test the wood framing behind it. To do this, simply press against the wood. Signs of water damage include softness of the wood and/or rotting.