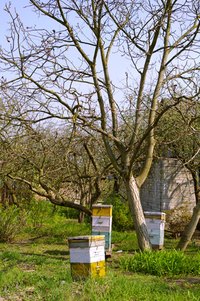 Introduced into the United States in the late 1980s, parasitic varroa mites are the biggest honeybee pest worldwide and threaten to cripple a critical step in the pollination process for key U.S. agricultural crops including cantaloupe, apples and cranberries, according to the USDA Agricultural Research Service. Economically, it is estimated that honey bees provide a $14 billion agricultural benefit. Finding effective organic, or sustainable, methods to treat varroa mites is an important beekeeping issue because pesticides can contaminate honey. Mites are also becoming resistant to pesticides, as well.
Things You'll Need
Sticky sheets (purchased bottom inserts for hives)
Nonstick vegetable spray
Mesh
Purchased honeycomb for drones
Pollen substitute
Powdered sugar
Apilife VAR
Sucrocide
Non-Chemical Methods for Controlling Varroa Mites
Install a mesh screen as the hive bottom instead of a solid board to allow mites to drop out of the hive and give better ventilation. Another option is to create a sticky bottom, which involves spraying a nonstick vegetable spray on a solid bottom, or placing a purchased "sticky sheet" on the bottom and then fitting mesh on top, which allows the mites to fall through and stick, but protects the bees.

Trap developing drones, or male bees, by putting special honeycombs in the hive that encourage drone production, then remove the combs before the drones and mites emerge. Freezing the combs for up to 48 hours kills the mites. Varroa mites like to attach to male bees because of their size and longer development cycle, so by encouraging drone development in one place you can rid of a concentration of mites all at once, too.

Sprinkle enough inert dust, such as a pollen substitute or powdered sugar, to cover adult bees in the hive. This will force varroa mites to fall off. This option is disruptive and labor intensive, but not chemically harmful.
Use a biopesticide, such as Apilife VAR, which uses three essential oils -- menthol, thymol and eucalyptol -- combined into a vermiculite tablet. This tablet is divided into four pieces, covered in mesh to keep the bees from eating it, and put in the corners of the hive. The tablet is replaced weekly for three weeks, and is recommended for use in the fall. Sucrocide, another biopesticide which comes from tobacco plants, is sprayed weekly for three weeks on adult workers to kill emerging varroa mites.
Acquire bees that are mite tolerant, such as bees from the far-eastern region of Russia and hygienic bees. The Russian bees are available in the U.S. and are twice as tolerant to the varroa mite as other bees and are resistant to the tracheal mite, a less-troublesome honeybee parasite. Hygienic bees, such as the Minnesota Hygienic Stock, are bred because they spend more time grooming and cleaning themselves, which helps the hive resist varroa infestations.