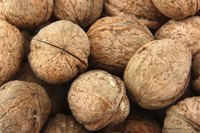 Black walnuts have shells more comparable to diamonds than cellulose and lignin, their constituents, when it comes to hardness. These shells prove impervious to nutcrackers, and sometimes even table vises don't provide enough leverage to crack one unaided. You can eat black walnuts, though, without paying the $7 to $10 per pound they cost in the supermarket. You have to line the shells up properly with the jaws of a vise and apply pressure to their weakest points structurally -- the seams -- to enjoy the nutty prize awaiting inside.
Position the seams of the walnut shell parallel with the jaws of the vise. Place the walnut between the vice jaws.
Tighten the jaws until they hold the walnut securely.
Tighten the vise until the shell cracks. If you can't turn the vise handle, insert the a long pipe over it for added leverage. You can also strike the vise handle with a rubber mallet for extra force, if necessary.
Pick the nut meat from the shell with a nut pick. Store walnuts in an airtight container in the freezer for maximum freshness.