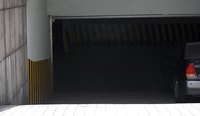 Oil stains are a common occurrence on concrete driveways and garage floors. Whether the oil is spilled during an automotive repair, while fixing household items or enjoying a hobby, it can result in a dark, discolored stain on your concrete. Despite the fact that concrete is a durable and sturdy surface, it's also porous and can absorb an oil spill quickly. Remove an oil stain on your concrete quickly and thoroughly for the best stain removal results.
Things You'll Need
Old absorbent cloths
Cornmeal
Broom
Dustpan
Bucket
Dry dishwasher detergent
Stiff bristle brush
Tea kettle
Rubber gloves
Lay an old absorbent cloth over the oil stain on your concrete to wick up the grease. Change to a fresh cloth as needed and discard the old one. Continue to soak up as much of the oil substance as possible.
Pour a mound of cornmeal over the oil stain. Leave the cornmeal in place for three hours so it has time to absorb any remaining oil on the concrete. Remove the cornmeal from the driveway or garage floor with a broom and dustpan, then discard.
Wet the surface of the concrete at the site of the grease stain with warm water in a bucket. Spread dry dishwasher detergent over the dampened oil stain then make a soapy lather by scrubbing the concrete with a stiff bristled brush. Leave the soapy solution on the oil stain for 10 minutes.

Bring water to boil in a tea kettle. Wear rubber gloves to keep your skin safe from the hot water and soap chemicals. Pour the boiling water over the site of the oil stain.
Sprinkle a little bit more detergent onto the oil stain. Scrub with the stiff bristle brush to lift the remaining oil stain.
Remove all soap suds and remaining oil from the concrete surface by rinsing the spot, over and over again, with buckets of water. Rinse until there are no further soap suds. Dry the concrete with old absorbent cloths.