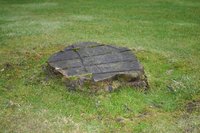 If the root system of a tree is not removed, the roots may continue to provide nutrients to the tree stump, forcing out new growth shoots as the tree attempts to regrow. Several methods may be used to get rid of an unsightly tree stump. Two popular, inexpensive methods used to remove a tree stump involve decomposing it.
Things You'll Need
Chainsaw
Nitrogen fertilizer
Nitrogen Fertilizer and Compost
Be sure that the stump is as close to the ground as possible. Drill several holes or make cross-cuts with a chainsaw in the stump, and fill them with a nitrogen fertilizer.
Keep the stump very moist to rot the wood. The purpose of the nitrogen fertilizer is to feed the growing fungi that will decompose the stump.
Build a compost pile on top of the stump. According to the University of Illinois Extension website, a compost pile may be built in three layers, with layer one consisting of organic substances, such as leaves, hay or corn stalks; layer two consisting of fertilizer or manure; and layer three consisting of one or two inches of garden soil. Do not use soil that is treated with insecticides. Also, sterile potting soil lacks microbes that are needed, so sterile soil should not be used.
Mushrooms
Drill several holes or make cross-cuts with a chainsaw in a tree stump--the same method used for the nitrogen fertilizer process. However, instead of using nitrogen fertilizer, place either gourmet or medicinal mushroom spores inside the holes.
Allow mushroom spores to grow and form living bodies of fungii--mycelia. The wood of the stump will become food for the mushrooms, as mycelia promotes decay and decomposition of the stump.
When much of the wood has decayed, mushrooms will be large. Decomposition of the tree stump should occur in two to three years after growing mushrooms on the stump, according to Gardensalive.com. Oyster mushrooms are recommended to accelerate the decomposition process.