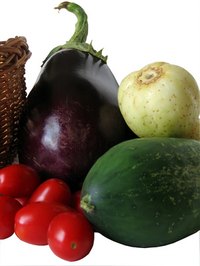 Planting from seed is an inexpensive way to start a vegetable garden. Seed also provides a greater choice of plants, as nurseries usually only stock a limited selection of seedlings. While seeds can be started directly in the garden bed, the best way to ensure vegetable seed germination is to start the seeds where you can control the temperature, light and amount of water the seeds receive. Sowing the seeds indoors gives you this control and also allows you to give the plants a few weeks head start on the spring gardening season.
Things You'll Need
Fill seed-starting pots with a sterile, well-drained potting mixture that contains peat moss and vermiculite. These mixtures are disease-free and fine textured so small sprouts can easily push through the soil.
Water the potting mixture until the excess mixture drains from the bottom and into the drip tray. Leave the pots to sit in the drip tray for one to two hours so the mixture can absorb as much moisture as possible. Drain the excess moisture from the tray once the pots are done soaking.
Sow one to two vegetable seeds per pot. Plant the seeds at a depth equal to twice the seed's width. Some vegetable seeds must be sown on the surface of the soil, so refer to the seed packet for exact sowing depth requirements.
Place a plastic bag over the pots. The bag helps retain both moisture and warmth in the potting soil during seed germination.
Set the pots in a 65 to 75 F room to germinate. Alternately, set the pots on top a seedling heat mat set to 75 F. Cool soil inhibits germination.
Remove the plastic bag as soon as the seeds germinate, usually within seven to 14 days for most vegetable varieties. Move the pots to a well-lit area to continue growing.