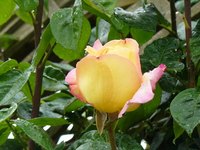 Available in countless varieties, colors and flower forms, roses provide both color and sweet fragrance to the flower garden. Roses bushes survive for many years, but the plants may become overgrown or stop blooming well over time. Summer heat can also leave roses looking weak and unkempt. Lack of water, improper or missed pruning and poor soil fertility can all cause roses to weaken. Proper care helps revive the roses so they return to their former health and beauty.
Things You'll Need
Cut out any diseased, damaged or dead rose canes. Prune these out at the base of the plant or at soil level with a sharp pair of shears. Pruning is best done in spring, but removal of dead and damaged canes can be done at any time.
Prune out any crossed branches, cutting these back to the base. Cut back the rest of the rose bush by up to one-third its height to encourage new, full growth. Do this renovation pruning in winter or early spring when the plant is dormant.
Water the roses one to two times each week during the summer months to prevent drought stress. Provide enough water to moisten the top 6 to 8 inches of soil. Avoid over watering that leads to standing water or soggy soils.
Spread a 2-to-3-inch layer of mulch over the soil around the rose bush. The mulch prevents moisture loss in the soil and keeps the roses roots cool, which helps prevent summer wilting.
Inspect the roses for insect or fungus damage. Small insects on the underside of leaves, tattered foliage or visible fungal growth all lead to a weakened, unattractive plant. Treat the rose bush with the appropriate pesticide or fungicide for any infestations affecting it.
Remove the withered flowers as soon as they begin to fade. Flower removal, called deadheading, improves the appearance of the bush and encourages further blossom production.